Spy Hop is located in Salt Lake City:
Kahlert Youth Media Arts Center
208 West Harvey Milk Blvd.
Salt Lake City, UT 84101
801-532-7500
For general information: info@spyhop.org
For questions about our programs: programs@spyhop.org
For information about renting the Spy Hop Rooftop please fill out our formal inquiry form HERE.
Hours:
Monday: 9:00 am – 8:00 pm
Tuesday: 9:00 am – 8:00 pm
Wednesday: 9:00 am – 8:00 pm
Thursday: 9:00 am – 8:00 pm
Friday: 9:00 am – 6:00 pm
Saturday: Closed
Sunday: Closed
Parking
The Kahlert Youth Media Arts Center has a small parking lot behind the facility. Limited street parking is available in the neighborhood and on adjoining streets.
Getting Here
Our building is located right next to the 900 South Trax stop and on the 900 South bus route. Click here for TRAX and bus Schedule.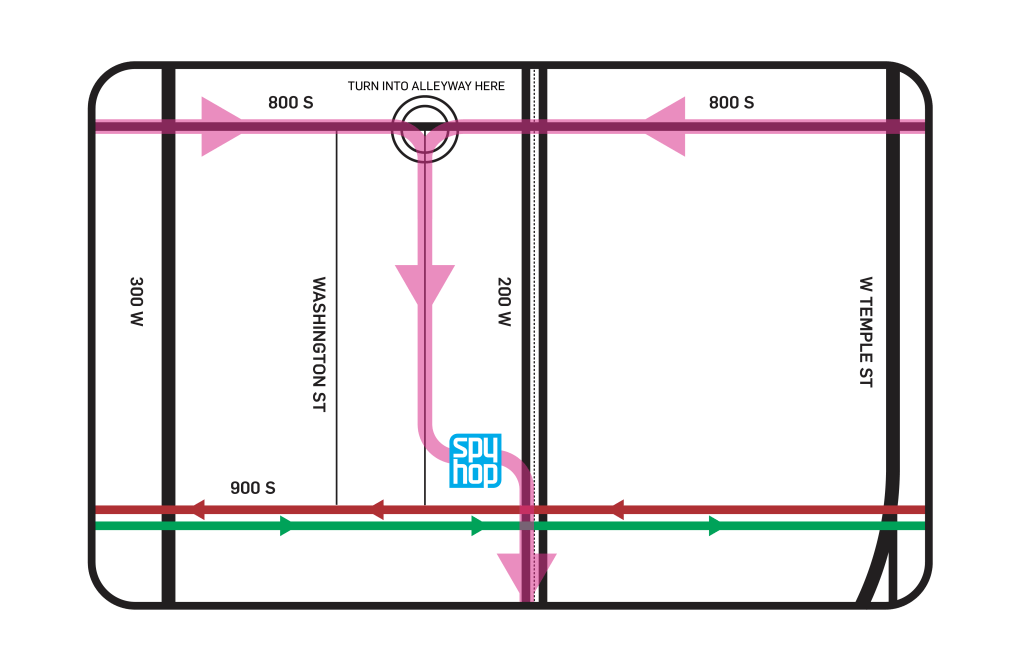 To access Spy Hop for student drop-off or pick-up, please access our parking lot through the alleyway accessible from 800 south, just west of 200 west. Look for a big parking lot and a blue USPS mailbox in the curb strip — the alleyway looks like a driveway.
Drive down the alleyway; Spy Hop's facility and parking lot will be on your left. Please use this area for pick up and drop off. Leaving Spy Hop, you will exit onto 200 west and turn right to travel south.