What makes Spy Hop, Spy Hop?
Over the years Spy Hop staff and mentors have explored, refined, and defined what goes into our special sauce, otherwise known as the "Spy Hop Way." Like a coveted family recipe, ours isn't so much about exact measurements, but about the quality of the ingredients and that the recipe is executed with intention, authenticity, and respect.
Our evaluation partners and friends at Convergence Design Lab define the Spy Hop Way like this: High-quality media, engaged youth voices, youth-powered spaces, professional mentors, community involvement, and enduring values: this is The Spy Hop Way. What we have learned is that our way of doing things is simple and complex; but in essence we meet young people where they are in life and invite them to share their stories through film, audio, music, and design. It is magical. It is inspiring. It is work and it is working.
Data from "We Choose to be Here" Evaluation Report, Convergence Design Lab, 2016-2017
Over 900 Stories Told 
Spy Hop cultivates creativity and artistic expression through the media arts. over 900 youth stories are told annually through film, audio, music and design each year
86% are College Bound 
Youth gain future-ready skills needed to pursue productive college and career pathways. 86% of alumni enrolled in college after Spy Hop.
80% Care About Fairness
Developing meaningful relationships and cross-cultural connections across diverse communities. 80% of students said participating in Spy Hop programs made them more interested in making sure that others are treated fairly.
34,000 People Engaged
Spy Hop amplifies youth stories and voices so audiences gain new knowledge and perspectives. Over 34,000 people annually engage with the organization through a film screening, interactive exhibit, music show or an outreach event.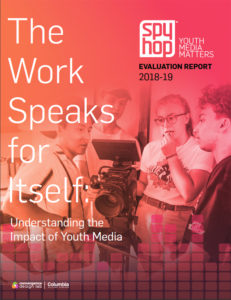 Read our most recently published evaluation report to learn more about Spy Hop's pedagogy and approach to positive youth development.