Mentorship is at the heart of everything we do.
We are a digital media arts center offering in-school, after-school, summer camps, youth-in-care, and satellite programming for students ages 9-19 of all skill levels and aspirations in film, music, audio and design. If you are a student, an artist, an activist, a parent, a teacher, or someone who believes in the power of this generation, you are in the right place. 
SPY • HOP (V): THE ACT IN WHICH A DOLPHIN RISES ABOVE THE WATER IN ORDER TO NAVIGATE AND DETERMINE ITS POSITION IN RELATION TO OTHER MEMBERS OF THE POD. 2. TO LOOK AHEAD. 3. TO TUNE IN.
Spy Hop offers hands-on project-based programming in Salt Lake City and across the state of Utah for students 9-19 of all skill levels and aspirations. We meet young people where they are in their lives and invite them to tell their stories through film, music, audio and design. Our model combines youth development, arts education, and career preparation to empower young people to gain the skills they need to be successful.
Spy Hop's mission is to mentor young people in the digital media arts to help them find their voice, tell their stories, and be empowered to affect positive change in their lives, their communities, and the world.
We envision a world in which all young people possess the skills and mindsets necessary for future success and that their voices are heard and valued in their communities.
Founded in 1999 as an alternative after-school tutoring program, Spy Hop served twelve students during its first year of operation. The organization has since grown exponentially and now serves over 18,000 students a year from more than 120 schools across the state, making it one of the largest and most diverse youth media organizations in the U.S. This growth and success are the results of Spy Hop's ability to develop and deliver an engaging portfolio that includes, in-school, after-school, and satellite programming in film, audio, music, and digital design.
Serving Students Across Utah
One size doesn't fit all. We recognize that not all students can access our downtown SLC location, so we have developed a program model that allows us to take our classes and workshops to communities across the state of Utah. Here is a snapshot of who we have served over the past three years (2016-2019).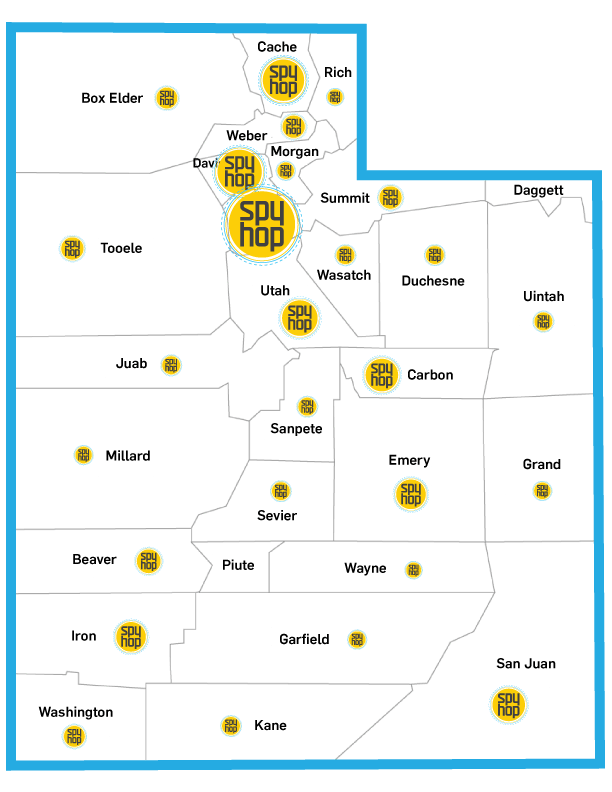 15,000+ 


Students served annually
15


Average age
42% 


Come from low income homes
62%


Male
37% 
Female
1%


Trans
55%
White
23%
Hispanic/Latino
9%


African American
5%


Pacific Islander
3%
Asian
2%
Native American