UPLIFTING OUR WORLD THROUGH YOUTH VOICE
Spy Hop Strategic Plan 2022 - 2032
ABOUT THE PLAN: WHY NOW?
In March of 2020, life as we knew it came to a screeching halt. A once-in-a-lifetime health crisis of a global scale, abruptly upended societal norms, habits, and dispositions. At the same time, a pandemic of another sort – racism – captivated the world in the wake of the murders of Ahmaud Arbery, Breonna Taylor, and George Floyd. This era of isolation was characterized by a collective outrage that challenged all of us to confront the systems of oppression that continue to affect our communities.
As the global death toll of COVID-19 now surpasses 6 million, our young people continue to exist under the incessant threat of disenfranchisement, exponential economic inequity, the revocation of reproductive rights, an ongoing climate crisis, and the omnipresence of racism.
For this reason, we believe that it is important that individuals and organizations continue to examine the nature of their silence and their outrage, the root causes of social inequities, their accountability to these issues, and ultimately, their role in sharing resources as a means of repairing harm.
As an organization that has been centering youth voice for over 23 years now and having recently built and moved into a permanent home in Salt Lake City, we have challenged ourselves to respond to the following critical question: What does it take to be an organization that uplifts the World through youth voice?
To answer this question, we utilized the practice of liberatory design to engage in rich conversation with over 500 local, state, and national stakeholders. This resulted in a 10-year strategic plan that will guide us on our journey of youth-centered, systems-change work that leverages the power of the arts, people and partnerships to ensure that all young people have a voice that is heard and valued as conduits of change in their communities.
SPY HOP'S 10 YEAR THEORY OF CHANGE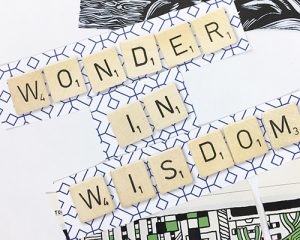 In 10 years Spy Hop will be an inclusive anti-racist multicultural organization actively engaged in youth-centered, systems-change work that leverages and values the power of youth voice and youth as partners in the pursuit of collective liberation.

1. BUILD A FOUNDATION OF ANTI-RACISM
Spy Hop will focus on embedding diversity, equity, inclusion, and belonging (DEIB) throughout our organization as key levers of change to ensure that our students, staff, and board are equipped with the skills, mindsets, and resources necessary to walk a safe and brave path to collective liberation.
2. INVEST IN AND UNLOCK OUR HUMAN POTENTIAL
We will invest time and resources into our staff and board by attracting, retaining, and developing their talents in service of our young people.
3. CONTRIBUTE TO AND SUSTAIN A STRONG AND JUST CREATIVE ECONOMY IN UTAH
We will work to build a state that values the arts and nurtures the inherent wisdom of young people, that sustains a just and creative culture and economy in which we can all thrive.
4. DELIVER FUN, HOLISTIC, YOUTH-CENTERED PROGRAMMING:
Spy Hop prioritizes youth voice while harnessing the power of mentorship, the arts and strategic partnerships to create sustainable and responsive programming to equip students with the skills and mindsets they need to be successful. Spy Hop programs utilize the proven methodology of the Spy Hop Way to ensure equity and access are at the forefront of program design and delivery.
5. STRENGTHEN COMMUNITY ENGAGEMENT, STRATEGIC PARTNERSHIPS AND ADVOCACY
Spy Hop works to build a network and leverages its influence to connect youth to their communities and to advocate for social justice and systems-level change that positively impacts their lives.
6. BUILD AND PRESERVE SUSTAINABLE BUSINESS PRACTICES
 We seek to align our nonprofit business model and fundraising activities with our guiding principles and to be transparent about who supports us and our impact on the community.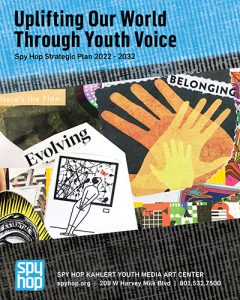 These report findings are the results of a partnership between Spy Hop and DesignEDengagement, a Latina-owned Public Benefit Corporation. Together, we developed this plan. The first phase, "Stakeholder Ecosystem Mapping" helped us identify and engage diverse stakeholder voices.
The "Stakeholder Engagement" phase included surveys, strategy lab sessions and over 75 one-on-one interviews. Over 500 Spy Hop stakeholders participated. 
Once findings were synthesized, staff members participated in developing an antiracism statement, vision, mission and strategic goals. The "Conclusion" phase includes key initiatives and metrics for measuring the success of this plan.