Project-based camps focused on creativity, self-expression and FUN!
Fun like you never imagined!
Let your child's creativity run wild with Spy Hop in a weeklong summer camp. Campers put their creativity to work to create their own art; from wacky to silly, uber-cool, and weird, each camp allows kids to express their wildest ideas by making movies, animations, music, video games, and more! All camps are guided by Spy Hop's talented artist mentors, giving campers a caring counselor, hands-on instruction, and ample opportunities to connect and collaborate with their friends. Explore strictly Spy Hop camps and others that combine the Spy Hop experience with a camp partner such as Wasatch Community Gardens. With days that are jam-packed with equal parts play and project-based activities, kids have endless opportunities to have fun and make the art in their head come to life!
Spy Hop Summer Camps June 5 – July 21, 2023
Classes Online: March 17, 2023

Registration opens April 17, 2023 at 9:00am

Daily Camps: 9:00 am – 3:30 pm (early drop-off available at 8:30 am)

Spy Hop Hangout (Extended Care): 3:30 – 5:30 pm (no additional fee, but sign up for extended care is required)

Weekly Tuition: Sliding scale – Please use the sliding scale above to determine your child's tuition rate for Spy Hop Summer Camps
Spy Hop Hangout (Extended Care)
Spy Hop Hangout is meant for campers whose families are unable to pick up when daily programming ends. The Hangout atmosphere is relaxed allowing time to chill with friends, play games, or work on an art project. Campers will be provided with a small snack and will be fully supervised. Spy Hop Hangout runs daily from 3:30 – 5:30 and is included in your weekly tuition, however, families MUST register for Hangout prior to the start of their weekly camp. Campers cannot attend Hangout without signing up prior to the start of their daily camp.
Spy Hop Sliding Tuition Scale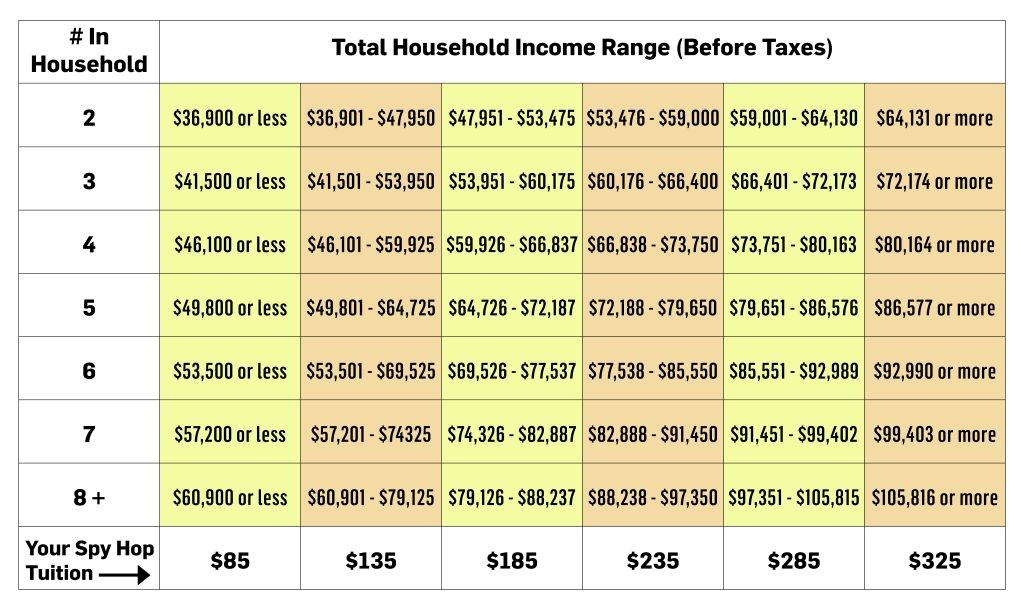 Spy Hop is committed to creating an environment of equality and inclusion for all of its programming, not letting financial barriers get in the way of a child's participation. Please use the tuition fee scale below to determine your family's weekly tuition rate based on your income and the number of people in your household. This tuition rate will apply to each child in your household for each camp they attend. You will enter this tuition rate when registration opens on April 17, 2023.
Spy Hop is a nonprofit organization and with the combination of tuition, grants, and individual contributions, Spy Hop is able to ensure that summer camps are available to all families regardless of their economic status.