2023 Summer Camp General Policies
For information regarding Spy Hop's COIVD-19 policies, please see the Covid-19 policies page.
Payment
Payment is due in full at the time of registration. All major credit cards are accepted. Parents/Guardians will receive a confirmation via email, along with a reminder phone call one week before camp starts.
Drop Off
Spy Hop Summer Camps take place at Spy Hop's Kahlert Youth Media Arts Center, 208 W Harvey Milk Boulevard. Please note that 900 South is under construction. The 9 Line bus stop has been temporarily relocated to the corner of 800 South and 200 West. See below for our drop-off and pick-up route as we navigate the construction.
To access Spy Hop for student drop-off or pick-up, please access our parking lot through the alleyway accessible from 800 south, just west of 200 west. There will be a Spy Hop business access sign indicating the entrance to the alleyway. Look for a big parking lot and a blue USPS mailbox in the curb strip — the alleyway looks like a driveway.
Drive down the alleyway; Spy Hop's facility and parking lot will be on your left. Please use this area for pick up and drop off. Leaving Spy Hop, you will exit onto 200 west and turn right to travel south.
There will be an identified drop-off location in the courtyard of the building on the northwest corner of 200 W and Harvey Milk Boulevard. There will be multiple Spy Hop staff members directing traffic and checking in all students starting at 8:30 AM. Parents/guardians will not need to leave their cars for drop-off, campers will be escorted into the building by a Spy Hop staff member.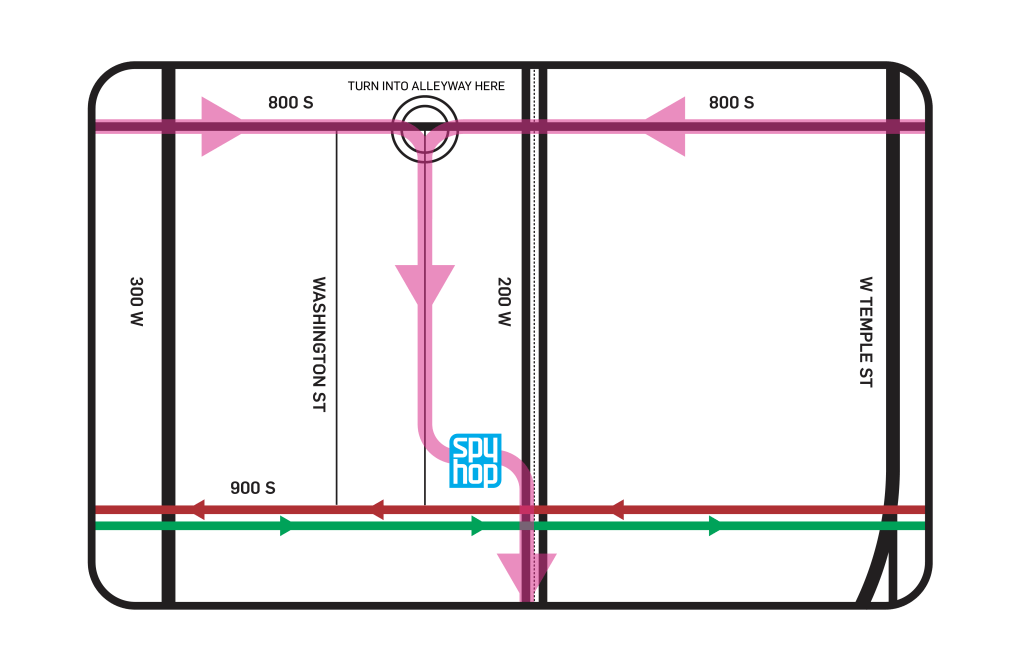 Pick Up
Spy Hop Summer Camps end at 3:30 PM. Please pick up your camper on time. Spy Hop requires that those picking up students in summer camps are listed as approved to do so (including parents). Students will be signed in and out at the start and end of each day. If you need to make a different pick-up arrangement during the week, please contact the Program Coordinator, Lillie Cummings, at programs@spyhop.org or call 801-532-7500 to communicate arrangements. 
For early pick-up, late arrivals, or absences, please email Lillie Cummings at lillie@spyhop.org, or call us at (801) 532 – 7500. This helps us plan the day, as campers do a lot of collaborative projects!
For early pick-up: campers may be picked up early by an approved adult. Please give advance notice by contacting Lillie Cummings about when your camper will be picked up and by whom. Please sign in at the front desk, and wait in the front lobby. A member of our staff will bring your camper down to you. We cannot have unsupervised adults in the building for student safety.
Spy Hop Hangout (Extended Care)
Spy Hop Hangout is meant for campers whose families are unable to pick up when daily programming ends. The Hangout atmosphere is relaxed allowing time to chill with friends, play games, or work on an art project. Campers will be provided with a small snack and will be fully supervised. Spy Hop Hangout runs daily from 3:30 – 5:30 and is included in your weekly tuition, however, families MUST register for Hangout prior to the start of their weekly camp. Campers cannot attend Hangout without signing up prior to the start of their daily camp. Hangout registration forms will be emailed to campers prior to the beginning of summer camps.
Early Arrivals And Latecomers
You will need to be prompt in dropping off and picking up your child. Spy Hop does not assume responsibility for any child dropped off unattended. Please do not drop off your child before 8:30 am, as staff will not be present to admit your child. If a child is not picked up promptly after camp, you will be charged a late fee of $5.00 for each minute the child is left unattended. This does not apply if you are delayed due to an emergency. Please contact Spy Hop at 801-532-7500 to alert us to any emergency situation, e.g. car trouble, etc.
Refunds
A 100% refund will be given for classes dropped up to two full weeks prior to the first day of class. Requests to drop a class and/or requests for refunds must be made directly to Spy Hop staff at programs@spyhop.org or by calling 801-532-7500. Parents are responsible for dropping all desired classes for their children before the drop deadline. No refunds will be issued after the drop deadline passes(2 weeks before the class start date). No refunds will be authorized in the event of a student dismissal. Please contact us at 801-532-7500 if you have extenuating circumstances beyond student or parent control and we will work with you to come up with a reasonable solution.
Cancellation Of Class
If fewer than the minimum number of students enroll, the camp will be canceled. Parents will be notified in advance and will receive a full refund. Summer camps require a minimum enrollment of 4 students before they can be held.
Sliding Scale Tuition
Spy Hop is committed to creating an environment of equality and inclusion for all of its programming, not letting financial barriers get in the way of a child's participation. Spy Hop's summer camps are open and available to all families and are offered on a sliding scale based on a family's individual financial circumstances. Summer Camp weekly tuition ranges from $85-$325 based on a family's financial circumstances. Spy Hop's Summer Camp Sliding Scale Tuition Worksheet helps a family determine their suggested weekly tuition based on the number of people in a household along with the total annual income (before taxes). No tax returns or financial documentation is required, we ask that you use the honor system and pay what your family can afford.
Discipline Policy
The purpose of good classroom and camp management is to provide an environment conducive to learning and fun. Teachers have the right to teach and students have the right to learn. A disruptive student detracts from the camp experience and affects the enjoyment of others.
Students are expected to abide by these rules:
Listen and follow directions
Show respect to others around you, the space, and the equipment
Use appropriate language and behavior
Our policy in handling disruptive children is as follows: First, the instructor will discuss the situation with the student; on the second occurrence, the instructor will notify the parent. If the situation continues uncorrected, the Spy Hop staff will contact the parent and the student will be dismissed from the camp. No refunds will be authorized in the event of a dismissal.
Cell Phone and Device Policy
We recognize that your child may have the need to bring a cell phone for communication purposes. However, cell phone usage during class is not permitted. Please leave tablets and game devices at home. Spy Hop is not responsible for any lost or stolen devices.
Lunch and Snacks
Campers are required to bring their own lunches. 30 minutes of supervised lunchtime will be provided each day. Snacks and drinks will be provided by Spy Hop. Please let the Program Coordinator know, prior to class, if your child has any food allergies. Please email programs@spyhop.org or call 801-532-7500.